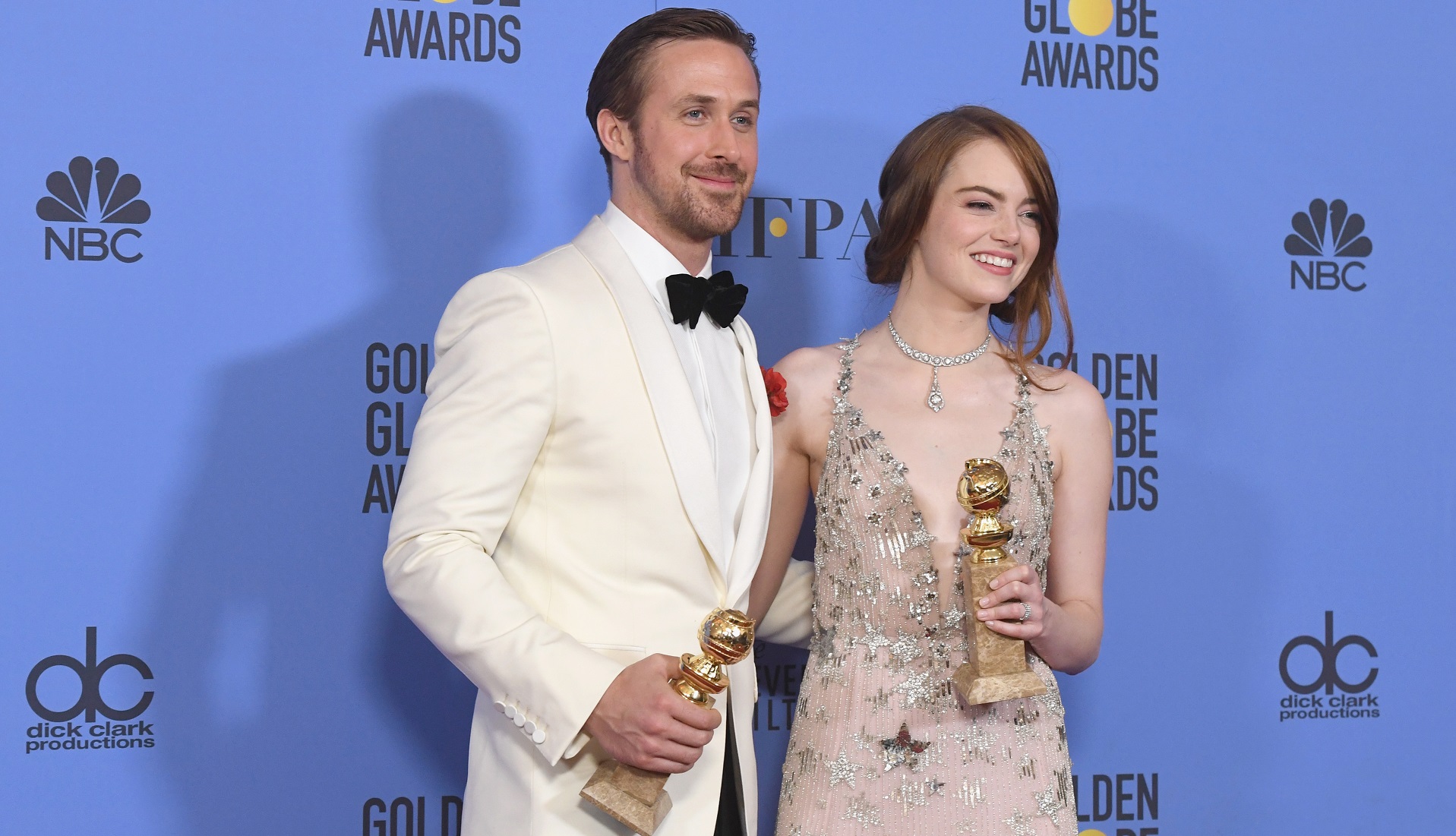 La 74ma edizione dei Golden Globes si è conclusa, decretando i primi, importanti verdetti della sempre attesa stagione dei premi cinematografici. Presentata da Jimmy Fallon, la cerimonia si è svolta al Beverly Hilton Hotel di Beverly Hills e in quanto a glamour, come da tradizione, non ha tradito le attese. Ma scopriamo subito i vincitori di quest'anno, che abbiamo evidenziato in grassetto per ciascuna categoria
Grande protagonista è stato La La Land che si è aggiudicato ben sette globi d'oro (un record), trionfando in ogni categoria in cui era nominato, con Ryan Gosling ed Emma Stone migliori attori protagonisti (in una cmmedia o musical) e Damien Chazelle miglior regista. Tra le sorprese della serata, la vittoria di Aaron Taylor-Johnson come Miglior attore non protagonista in un film drammatico (Animali notturni): era l'underdog e i pronostici davano favorito Mahershala Ali di Moonlight (Miglior film drammatico).
Sul fronte tv, Atlanta è la Miglior serie comica, mentre The Crown la Miglior serie drammatica: entrambi gli show sono stati premiati dopo la loro stagione di debutto. Trionfano come Migliori attori in una serie, mini-film o film tv, Tom Hiddleston e Hugh Laurie di The Night Manager.
Foto, video curiosità: visitate la nostra sezione dedicata ai Golden Globes per scoprire tutto sulla 74ma edizione
#GoldenGlobes : tutti d'accordo con i verdetti di quest'anno? (https://t.co/YoAAmBDjnz). Votate e diteci cosa ne pensate!

— Best Movie (@BestMovieItalia) 9 gennaio 2017
CINEMA
MIGLIOR FILM DRAMMATICO:
– Hacksaw Ridge
– Hell or High Water
– Lion
– Manchester by the Sea
– Moonlight
MIGLIOR FILM COMMEDIA O MUSICAL:
– 20th Century Women
– Deadpool
– Florence Foster Jenkins
– La La Land
– Sing Street
MIGLIOR REGISTA:
– Damien Chazelle, La La Land
– Tom Ford, Animali Notturni
– Mel Gibson, Hacksaw Ridge
– Barry Jenkins, Moonlight
– Kenneth Lonergan, Manchester by the Sea
MIGLIOR ATTORE IN UN FILM DRAMMATICO:
– Casey Affleck, Manchester by the Sea
– Joel Edgerton, Loving
– Andrew Garfield, Hacksaw Ridge
– Viggo Mortensen, Captain Fantastic
– Denzel Washington, Barriere
MIGLIOR ATTRICE IN UN FILM DRAMMATICO:
– Amy Adams, Arrival
– Jessica Chastain, Miss Sloane
– Isabelle Huppert, Elle
– Ruth Negga, Loving
– Natalie Portman, Jackie

MIGLIOR ATTORE IN UN FILM COMMEDIA O MUSICALE:
– Colin Farrell, The Lobster
– Ryan Gosling, La La Land
– Hugh Grant, Florence
– Jonah Hill, Trafficanti
– Ryan Reynolds, Deadpool
MIGLIOR ATTRICE IN UN FILM COMMEDIA O MUSICAL:
– Annette Bening, 20th Century Women
– Lily Collins, Rules Don't Apply
– Hailee Steinfeld, The Edge of Seventeen
– Emma Stone, La La Land
– Meryl Streep, Florence
MIGLIOR ATTORE NON PROTAGONISTA IN UN FILM:
– Mahershala Ali, Moonlight
– Jeff Bridges, Hell or High Water
– Hugh Grant, Florence
– Dev Patel, Lion
– Aaron Taylor-Johnson, Animali Notturni
MIGLIORE ATTRICE NON PROTAGONISTA IN UN FILM:
– Viola Davis, Barriere
– Naomie Harris, Moonlight
– Nicole Kidman, Lion
– Octavia Spencer, Hidden Figures
– Michelle Williams, Manchester by the Sea
MIGLIOR SCENEGGIATURA:
– Manchester by the Sea
– Hell or High Water
– Moonlight
– La La Land
– Animali Notturni
MIGLIOR COLONNA SONORA ORIGINALE:
– Moonlight
– La La Land
– Arrival
– Lion
– Hidden Figures
MIGLIOR CANZONE ORIGINALE:
– "Cant Stop The Feeling", Trolls
– "City Of Stars", La La Land
– "Faith", Sing
– "Gold", Gold
– "How Far I'll Go", Oceania
MIGLIOR FILM STRANIERO:
– Divines di Uda Benyamina
– Elle di Paul Verhoeven
– Neruda di Pablo Larrain
– Il Cliente di Asghar Faradi
– Vi presento Toni Erdman di Maren Ade
MIGLIOR FILM D'ANIMAZIONE:
– Kubo e la Spada Magica
– Oceania
– La mia vita da zucchina
– Sing
– Zootropolis
TELEVISIONE
MIGLIOR SERIE DRAMMATICA:
– The Crown
– Il Trono di Spade
– Stranger Things
– This Is Us
– Westworld
MIGLIOR SERIE COMICA O MUSICALE:
– Atlanta
– Blackish
– Mozart in the Jungle
– Transparence
– Veep
MIGLIOR MINI-SERIE O FILM TV:
– American Crime
– The Dresser
– The Night Manager
– The Night Of
– The People v. O.J. Simpson: American Crime Story
MIGLIOR ATTORE IN UNA SERIE DRAMMATICA:
– Rami Malek, Mr. Robot
– Bob Odenkirk, Better Call Saul
– Matthew Rhys, The Americans
– Liev Schreiber, Ray Donovan
– Billy Bob Thornton, Goliath
MIGLIOR ATTRICE IN UNA SERIE DRAMMATICA:
– Caitriona Balfe, Outlander
– Claire Foy, The Crown
– Keri Russell, The Americans
– Winona Ryder, Stranger Things
– Evan Rachel Wood, Westworld
MIGLIOR ATTORE IN UNA SERIE COMICA:
– Anthony Anderson, Blackish
– Gael García Bernal, Mozart in the Jungle
– Donald Glover, Atlanta
– Nick Nolte, Graves
– Jeffrey Tambor, Transparent
MIGLIOR ATTRICE IN UNA SERIE COMICA:
– Rachel Bloom, Crazy Ex-Girlfriend
– Julia Louis-Dreyfus, Veep
– Sarah Jessica Parker, Divorce
– Issa Rae, Insecure
– Gina Rodriguez, Jane the Virgin
– Tracee Ellis-Ross, Blackish
MIGLIOR ATTORE PROTAGONISTA IN UNA SERIE, MINI-SERIE O FILM TV:
– Riz Ahmed, The Night Of
– Bryan Cranston, All The Way
– Tom Hiddleston, The Night Manager
– John Turturro, The Night Of
– Courtney B. Vance, The People v O.J.: American Crime
MIGLIOR ATTRICE NON PROTAGONISTA IN UNA SERIE, MINI-SERIE O FILM TV:
– Olivia Colman, The Night Manager
– Lena Heady, Game Of Thrones
– Chrissy Metz, This is Us
– Mandy Moore, This is Us
– Thandie Newton, Westworld
MIGLIOR ATTRICE PROTAGONISTA IN UNA SERIE, MINI-SERIE O FILM TV:
– Felicity Huffman, American Crime
– Riley Keough, The Girlfriend Experience
– Sarah Paulson, The People v O.J.: American Crime
– Charlotte Rampling, London Spy
– Kerry Washington, Confirmation
MIGLIOR ATTORE NON PROTAGONISTA IN UNA SERIE, MINI-SERIE O FILM TV:
– Sterling K. Brown, The People vs O.J.: American Crime
– Hugh Laurie, The Night Manager
– John Lithgow, The Crown
– Christian Slater, Mr Robot
– John Travolta, The People v O.J.: American Crime
Foto: Getty Images
© RIPRODUZIONE RISERVATA