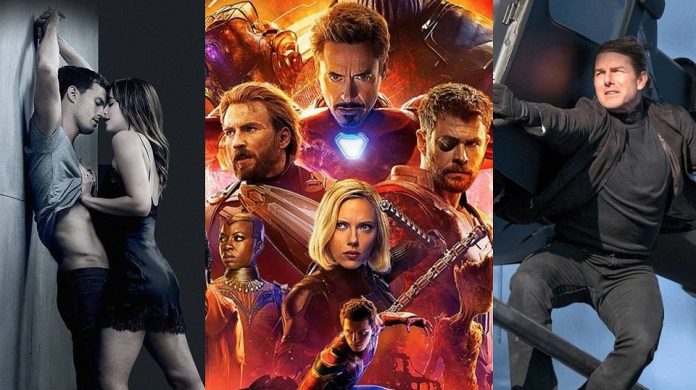 Svelate le nomination ai People's Choice Awards 2018, il premio deciso dagli spettatori americani la cui cerimonia si svolgerà l'11 novembre.
A guidare le candidature di quest'anno sono i Marvel Studios, che si mettono in pole position con Avengers: Infinity War, Black Panther e Ant-Man and The Wasp. Contro di loro, altri gettonatissimi film come A Quiet Place, Cinquanta sfumature di rosso, Solo: A Star Wars Story e Nelle pieghe del tempo.
Qui di seguito l'elenco con tutti i candidati: voi per chi fate il tifo?
FILM DEL 2018
A Quiet Place
Avengers: Infinity War
Black Panther
Cinquanta sfumature di rosso
Deadpool 2
Gli incredibili 2
Jurassic World: Il regno distrutto
Mission Impossible: Fallout
Nelle pieghe del tempo
Ocean's 8
Ready Player One
Solo: A Star Wars Story
FILM COMMEDIA DEL 2018
Book Club
Come ti divento bella
Crazy Rich Asians
Game Night
Giù le mani dalle nostre figlie
Il tuo ex non muore mai
Life of the Party
Mamma Mia: Here We Go Again
Overboard
Tag
Tuo, Simon
Uncle Drew
FILM ACTION DEL 2018
Ant-Man and the Wasp
Avengers: Infinity War
Black Panther
Deadpool 2
Jurassic World: Il regno distrutto
Mission Impossible: Fallout
Ocean's 8
Rampage
Ready Player One
Solo: A Star Wars Story
The Equalizer 2
The Meg
FILM DRAMMATICO DEL 2018
12 Soldiers
Acrimony
Annihilation
A Quiet Place
BlacKkKlansman
Breaking In
Cinquanta sfumature di rosso
La prima notte del giudizio
Midnight Sun
Ore 15:17 – Attacco al treno
Red Sparrow
Resta con me
FILM PER FAMIGLIE DEL 2018
A-X-L – Un'amicizia extraordinaria
Christopher Robin
Gli Incredibili 2
Hotel Transylvania 3
I Can Only Imagine
I primitivi
Nelle pieghe del tempo
Paddington 2
Peter Rabbit
Sherlock Gnomes
Show Dogs
Teen Titans Go! Il film
ATTORE DEL 2018
Chadwick Boseman, Black Panther
Chris Hemsworth, Avengers: Infinity War
Chris Pratt, Jurassic World: Il regno distrutto
Dwayne Johnson, Skyscraper
John Boyega, Pacific Rim
Michael B. Jordan, Black Panther
Nick Robinson, Tuo, Simon
Paul Rudd, Ant-Man and the Wasp
Pierce Brosnan, Mamma Mia: Here We Go Again
Robert Downey Jr., Avengers: Infinity Wars
Ryan Reynolds, Deadpool 2
Tom Cruise, Mission Impossible: Fallout
ATTRICE DEL 2018
Anne Hathaway, Ocean's 8
Bryce Dallas Howard, Jurassic Park: Il regno distrutto
Emily Blunt, A Quiet Place
Evangeline Lilly, Ant-Man and the Wasp
Jennifer Lawrence, Red Sparrow
Leslie Mann, Giù le mani dalle nostre figlie
Lily James, Mamma Mia: Here We Go Again
Melissa McCarthy, Life of the Party
Oprah Winfrey, Nelle pieghe del tempo
Reese Witherspoon, Nelle pieghe del tempo
Sandra Bullock, Ocean's 8
Scarlett Johansson, Avengers: Infinity War
STAR DRAMMATICA DEL 2018
Chris Hemsworth, 12 Soldiers
Emily Blunt, A Quiet Place
Ewan McGregor, Christopher Robin
Gina Rodriguez, Annihilation
Jamie Dornan, Cinquanta sfumature di rosso
Jennifer Lawrence, Red Sparrow
John David Washington, BlacKkKlansman
John Krasinski, A Quiet Place
Natalie Portman, Annihilation
Oprah Winfrey, Nelle pieghe del tempo
Reese Witherspoon, Nelle pieghe del tempo
Shailene Woodley, Resta con me
STAR COMICA DEL 2018
Amanda Seyfried, Mamma Mia: Here We Go Again
Amy Schumer, Come ti divento bella
Anna Faris, Overboard
Awkwafina, Crazy Rich Asians
Constance Wu, Crazy Rich Asians
John Cena, Giù le mani dalle nostre figlie
Jon Hamm, Tag
Leslie Mann, Giù le mani dalle nostre figlie
Melissa McCarthy, Life of the Party
Mila Kunis, Il tuo ex non muore mai
Nick Robinson, Tuo, Simon
Tiffany Haddish, Uncle Drew
STAR ACTION DEL 2018
Alicia Vikander, Tomb Raider
Chadwick Boseman, Black Panther
Chris Hemsworth, Avengers: Infinity War
Chris Pratt, Jurassic Park: Il regno distrutto
Danai Gurira, Black Panther
Donald Glover, Solo: A Star Wars Story
Dwayne Johnson, Rampage
Evangeline Lilly, Ant-Man and the Wasp
Michael B. Jordan, Black Panther
Ryan Reynolds, Deadpool 2
Scarlett Johansson, Avengers: Infinity War
Tom Cruise, Mission Impossible: Fallout
SHOW TV DEL 2018
13 Reasons Why
9-1-1
America's Got Talent
Grey's Anatomy
Modern Family
Saturday Night Live
The Big Bang Theory
The Good Doctor
This Is Us
The Walking Dead
Will & Grace
WWE Raw
SERIE DRAMA DEL 2018
13 Reasons Why
9-1-1
Castle Rock
Grey's Anatomy
Lost In Space
Riverdale
Scandal
The Good Doctor
The Handmaid's Tale
This Is Us
The Walking Dead
Westworld
SERIE COMEDY DEL 2018
Atlanta
Black-ish
Insecure
Modern Family
Mom
Orange Is the New Black
Santa Clarita Diet
Saturday Night Live
The Big Bang Theory
The Good Place
Unbreakable Kimmy Schmidt
Will & Grace
REVIVAL DEL 2018
American Idol
Arrested Development
Dynasty
Fear Factor
Jersey Shore: Family Vacation
Lost In Space
Love Connection
One Day at a Time
Queer Eye
Trading Spaces
Will & Grace
X-Files
ATTORE TV DEL 2018
Andrew Lincoln, The Walking Dead
Cole Sprouse, Riverdale
Freddie Highmore, The Good Doctor
Jesse Williams, Grey's Anatomy
Jim Parsons, The Big Bang Theory
Justin Chambers, Grey's Anatomy
Iain Armitage, Young Sheldon
Milo Ventimiglia, This Is Us
Norman Reedus, The Walking Dead
Scott Foley, Scandal
Sterling K. Brown, This Is Us
Tony Goldwyn, Scandal
ATTRICE TV DEL 2018
Camila Mendes, Riverdale
Elisabeth Moss, The Handmaid's Tale
Ellen Pompeo, Grey's Anatomy
Danai Gurira, The Walking Dead
Issa Rae, Insecure
Kaley Cuoco, The Big Bang Theory
Kate McKinnon, Saturday Night Live
Kerry Washington, Scandal
Kristen Bell, The Good Place
Lauren Cohan, The Walking Dead
Mandy Moore, This Is Us
Viola Davis, How to Get Away with Murder
STAR DRAMA TV DEL 2018
Andrew Lincoln, Walking Dead
Chrissy Metz, This Is Us
Darren Criss, The Assassination of Gianni Versace: American Crime Story
Elisabeth Moss, The Handmaid's Tale
Ellen Pompeo, Grey's Anatomy
Freddie Highmore, The Good Doctor
Jason Bateman, Ozark
Justin Hartley, This Is Us
Katherine Langford, 13 Reasons Why
KJ Apa, Riverdale
Kerry Washington, Scandal
Mariska Hargitay, Law & Order: SVU
STAR COMEDY TV DEL 2018
Donald Glover, Atlanta
Drew Barrymore, Santa Clarita Diet
Ellie Kemper, Unbreakable Kimmy Schmidt
Jim Parsons, Big Bang Theory
Kate McKinnon, Saturday Night Live
Kristen Bell, The Good Place
Megan Mullally, Will & Grace
Sofia Vergara, Modern Family
Ted Danson, The Good Place
Tiffany Haddish, The Last O.G.
Tracee Ellis Ross, Black-ish
Yara Shahidi, Grown-ish
SERIE DA BINGE WATCHING DEL 2018
13 Reasons Why
The Assassination of Gianni Versace: American Crime Story
GLOW
Killing Eve
Ozark
Queer Eye
Shameless
The Marvelous Mrs. Maisel
The Sinner
The Walking Dead
Unbreakable Kimmy Schmidt
Younger
SERIE SCI-FI/FANTASY DEL 2018
Arrow
Black Lightning
Cloak and Dagger
Doctor Who
Marvel's Jessica Jones
Marvel's Luke Cage
Once Upon A Time
Shadowhunters
Supergirl
Supernatural
The Expanse
The Originals
© RIPRODUZIONE RISERVATA